Golf Club Memberships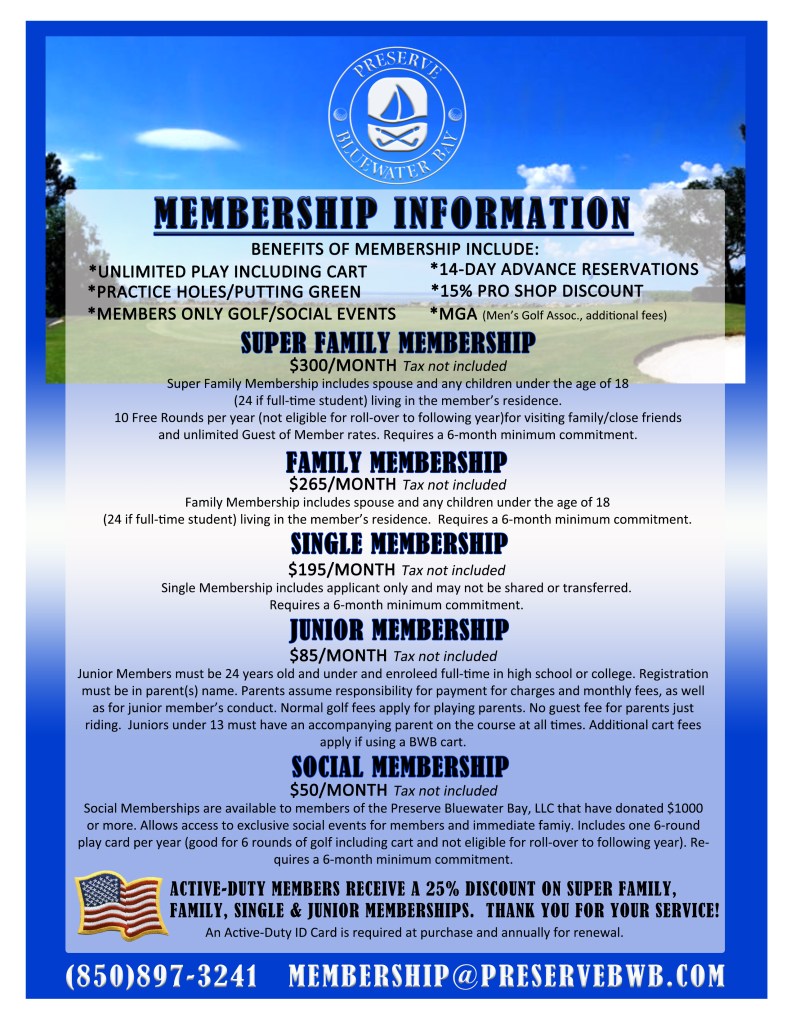 Effective 1 March 2022 The Golf Club at Bluewater Bay will be open and operating under new management! We have a variety of memberships and daily rates that are sure to be competitive while providing you with an unmatched golf experience. Check those out below. Most membership types include unlimited golf for individuals and families. Privileges of membership include:
Unlimited play including cart
Fourteen-day advance reservations
Full use of practice facility
15% discount in Pro Shop
Access to Men's and Ladies' Golf Associations (addt'l fees)
Members only golf and social events
[Note: All fees below are quoted on a monthly basis. Fees may be paid annually in advance for a 5% discount, or monthly in advance, by credit card. If a monthly payment is desired, a credit card MUST be posted for the account and you will be charged on or before the 1st day of each month. Unless we hear differently from you by your annual renewal date, we will assume you wish to renew at the same membership level as your previous year.
Membership Descriptions
Super Family, Family, and Single Membership
Members have full golf and club rights and privileges. Member benefits include unlimited monthly green fees and the use of all BWB amenities in accordance with current policies and procedures. A Super Family membership includes spouse, any children under the age of 18 (24 if a full-time student) living in the member's personal residence, 10 free rounds per year (not eligible for roll-over to the following year) for visiting family/close friends, and unlimited "guest of a member" rates. Family membership includes a spouse and any children under the age of 18 (24 if a full-time student) living in the member's personal residence. A Single membership includes only that person and may not be shared or transferred. All three memberships require a 6-month minimum commitment.
Super Family Membership: $300/mth +tax | $3420/yr (w/ 5% discount) +tax
Family Membership: $265/mth +tax | $3021/yr (w/ 5% discount) +tax
Single Membership: $195/mth +tax | $2223/yr (w/ 5% discount) +tax
Junior Membership
Junior Members must be age 24 and under and enrolled full-time in high school or college. They must be registered in the name of the parents, and the parents will be responsible for the payment of charges incurred by the juniors as well as for the conduct of the juniors. Normal rates will apply for parents who are playing, but there will be no guest fee for parents accompanying a junior but not playing. Juniors under age 13 must have an accompanying parent on the course at all times. Additional cart fees will apply if using a BWB cart.
Junior Membership: $85/mth +tax | $969/yr (w/ 5% discount) +tax
Social Membership
Social membership provides access to exclusive social events for the members and their immediate household. This also includes one 6-round play card per year good for 6 rounds of golf with a cart (not eligible for roll-over to the following year). Note: this level of membership is only available to individuals that have made a one-time donation of $1,000 or more to Preserve Bluewater Bay, LLC. Requires a 6-month minimum commitment.
Social Membership: $50/mth +tax (only available to members of the Preserve Bluewater Bay, LLC that have donated $1,000 or more)
Active Duty
Active-Duty members will receive a 25% discount on Super Family, Family, Single, and Junior memberships. Thank you for your service! An Active-Duty ID card will be required at purchase and annually at each renewal.
Membership Inquiry Form
Interested in signing up for a membership? Let us know by filling out the form below or contact us at (850) 897-3241
Membership Policies
Payments are due on the 1st of the month and delinquent on the 10th of the month, should your card be declined for any reason as auto-draft is processed.
If the account is not paid by the 10th day of the month, a $5.00 late fee will be assessed.
If an account is delinquent on the 20th of the month, the membership will be suspended. The membership may be reinstated by the 1st of the next month by paying a $25.00 fee and completing a reinstatement form.
If the account balance becomes 45 days past due, the membership will be canceled and the account will be turned over to a collection agency.
Resignation from the club can only be done by giving a 2-week written notice to the club and by paying any dues or other charges outstanding. The resignation will be considered official as of the next billing period from when written notice is received and when member has paid the account balance in full.
A leave of absence will be considered on a case-by-case basis, and for no period shorter than three months. A written request for a leave of absence must be received 30 days prior to leaving.
A dependent is eligible to be on membership until the age of 24 if he or she is a full-time student.
Super Family, Family, Single, and Social Memberships require a 6-month minimum commitment. Junior memberships can be month to month.
Super Family Memberships are the only ones eligible for the guest of a member rate.
The free rounds included in the Super Family and Social Memberships are provided on an annual basis, refreshed each year upon renewal of the membership, but not eligible for roll-over into the following year.